My personal vision (a passionate quest) of the root cause of cancer ensues, the result of encouragement by cancer patients, friends and family, and is based on four-decades of focused cellular research, and endless hours of critical thinking.  You are not alone in wondering, 'what can I do better' to help advance treatment, prevention or cure. Trust in your inner voice and find a way to have it heard; the power of one counts in immeasurable ways!  While I am no different then anyone else in hoping I am onto something big, in laying out my vision there is as much about the need for the status quo in cancer research to shift dramatically; I am open to and welcome your constructive feedback.    Flemming Rasmussen – Nov 2013 

If we continue to prevent and treat cancer the way we are currently doing and have been doing for the past 50 years, the next 50 years will not be any different. We have to learn to think outside the box. We have put too much emphasis on survival of the pharmaceutical companies and not enough focus on the survival of the patients.  Bharat Aggarwal PhD, MD Anderson Cancer Center, 3 Dec 2009
Practical Implications - Dr Aggarwal's preceding quote was strategically selected to emphasize that this website presents a radically different vision of cancer when compared to the conventional oncological theories dominating today's cancer treatment.  Dr Susan Love, (a leading breast cancer advocate, a surgeon and a cancer patient in remission) comments, "Sometime during the last thirty years, we allowed ourselves to become complacent, accepting slightly better treatments as triumphs and cosmetic surgery as better than nothing."
We need to recognize that the determination of the root cause of cancer has proven elusive to scientists and existing cancer theories are rife with paradoxes, which is a polite manner in saying that their central premise is wrong.  Our ensuing vision opens up opportunities to confront the disease very differently.
Pause for thought – (new post 15 Nov)
For a minute I encourage you to set-aside any feelings you may have surrounding conventional cancer treatments like radiation, chemotherapy, and surgery to ponder on the following.  Research into spontaneous/radical remissions of cancer exist because these remissions are real, and their occurrences are increasingly documented.  Knowing that such a reversal is possible brings euphoric emotions, failing to identify any consistent mechanism behind them perplexing, and knowing they arise extremely infrequently is sobering.
Reflecting on this phenomenon results in a surreal realization the body can 'heal' itself WITHOUT conventional medical interventions despite terminal cancer diagnoses.  This realization screams that the 'faulty gene' premise that the bulk of existing conventional treatment is based, is wrong.  Yet one common denominator is present in every cancer, eloquently and simply described as an out-of-balance cellular microenvironment.   A huge component of this microenvironment is the cytosol, and its make-up is transformed gradually in a lifetime from conception's maternal influences through to an adult's insidious dietary surpluses and deficiencies, coupled with the toxin and/or radiation exposures incurred during work and play.  This dynamic matrix is what causes ALL of our genes' expression at any height of wellness or depth of disease.  It is naïve at best and irresponsible at worst to ignore this basic tenet of human biology.
Science, medicine and even personal pilgrimages have explored for decades how we might be able to influence the progression of cancer.  While the mechanism(s) behind radical remissions remain hidden, there is no dispute that these remissions actually occur; a body can fight back with subtle yet overwhelming force to reverse what a short time before would have been termed dire circumstances.  Knowing the cytosol of each of our trillions of cells is a central factor in the life and death of a cell is encouraging but the sad part is that up to now, precious little research is devoted to understanding and tending to this foundation of life.
Our thesis overview 
Cancer is a natural response to an incredibly complex and dynamic interplay of our cells internal and external environments. Millions of reactions occur every second in every cell in our body!  To recognize that our cells' cytoplasmic stew (a black box medium that can contain an untold number of ingredients (metabolites) at varied concentrations) controls all cellular activities and may with neglect, result in cancer is paramount.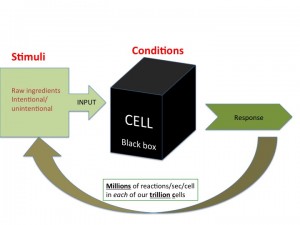 Marching this thought backwards, life starts with our unique genome inherited from our biological parents and our maternal cytoplasm; it is vital to appreciate the significance of this initial maternal asymmetrical cytoplasm division that is the starting point of human life, and the ensuing asymmetrical cytoplasm division that is part of every created/newly generated) cell  All subsequent input to our cells throughout their life (metabolites, O2, toxins, etc.) comes from the cell's external environment, mainly from adjacent blood flow. It is the resulting instantaneous metabolic influence from all of these inputs plus hormones, metabolites, expressed proteins and other multiple feedback mechanisms that directly control the cell's genetic expression and ultimately the cell's fate.
In summary, we see cancer as a cellular consequence to a dynamic environmental metabolic insult. The 'raw ingredients' to this process are derived from each person's individual environment. (We are bombarded with the message our specific cancer risks are tied to the air we breathe, the radiation we receive and absorbed toxins. However, the message on the increased or decreased cancer risks from the variety/adequacy of nutrients derived from our food sources is at best fragmented and at worst, eerily silent).
Essentially all of the mainstream cancer research has seemingly been unaware or brushed over this critical aspect of a cell's health and has rather opted to focus on singular contributing but subordinate roles of observed changes in pH, degraded mitochondria functioning, or our genome and its unwanted random genetic expression.
Your Destiny and CANCER! Revised 02 Oct 2013
Make no mistake, you can directly influence if not totally control the manner your body fights to eliminate cancer or sadly surrenders to terminal cancer!  While the thrust of this website centers on attending to a compromised cellular environment, elevated levels of stress in our lives also negatively impact our cellular environment; factors affected include variations in pH, changes in electrolyte levels, and even altered blood flow. Therefore while efforts to reduce personal stress levels are not addressed in this site, they should be seen as complementary and integral in a person's journey to wellness.
Closing Thanks
Our expectation is that within this website you will find our understanding of cancer not only interesting, but enlightening, hopeful and meaningful in your bid to arrest cancer.  Thank you!